Posted on September 13, 2014 at 11:26 PM (UTC+08:00) | Comments (2)
Starting a new series on the blog today.
I know it's a bit late into Saturday since it's already 9:25 PM as I am typing this but I came up with this series idea just now and I thought of giving it a go.
Anyway, Saturday Favorites would be where I post about the stuff that caught my attention in the past week. Think of it as kind of a weekly favorite roundup.
Let's begin!
1) 15 Museums to Visit in Metro Manila
As I have mentioned in passing in some of my previous posts recently, I have been exclusively dating someone. We've gone out on more than a handful of dates and while most of them were just really seeing each other and eating out, we have also watched a musical together and there was one time when we went to the Mind Museum in BGC.
This list of museums to visit in Metro Manila by ClickTheCity.com caught my attention as soon as I saw it on my Facebook feed. I have already gone to some of the listed museums but it wouldn't be so bad to revisit some of them with him!
2) National Bookstore Cut Price Up to 50% Off
It is a truth universally acknowleged (okay, maybe not universally, haha!) that I have a book shopping problem. I wanted to squee when I saw the ad for this massive sale on my Facebook feed and my email.
Book shopping has been an addiction. Buying books now sometimes leaves me feeling guilty all because I still have a lot of books left unread at home and our house is already so crammed up that we don't have any space for a new shelf of books anymore.
Although it would be nice to get a copy of Lang Leav's Lullabies at a discounted price. And my sister told me she wants to have a copy of Rick Riordan's Percy Jackson's Greek Gods. The only problem is if I buy them, where do I put them??
3) Lippie staples
I've been putting an effort with how I look every day and as much as possible I try to look and feel pretty. Here are my lippie staples for the past week:
Etude House's Dear My Blooming Lips-talk in 묘한 베이지 (Subtle Beige / BE104), as pictured on the left, is my current favorite. I usually use bold colors like shades of red or a brighter shade of pink but I think this nude shade also suits my lips. Apart from making me look girly, I love that I can wear it and still look simple but pretty.
Maybelline's Baby Lips in Mango Pie flavor, on the other hand, is what I use to moisturize my lips from time to time. I have a habit of occasionally forgetting to drink the right amount of water and just two months ago I started smoking (I am trying to quit now!) that leaves my lips dry and chapped and this lip gloss is just the perfect tool to get my lips back to its lush state. Also, I really like the flavor (think Jollibee Peach Mango Pie)
4) 13-Year-Old Designer Debuts at New York Fashion Week
Isabella Rose Taylor is truly inspiring. Check her out in this article!
5) 5 Ways to Start Taking Care of Yourself (Because It's Hard)
This is actually a very good read especially for someone like me who tends to forget to take care of myself once the humdrum of life starts to pull me in. But now I am trying my best to keep what I have right now going and that means regularly taking my vitamins, doing a regular skin care regimen, updating this blog more, living a little, and doing a lot of other stuff that I usually tend to neglect that are actually good for my well-being.
6) 5 Ways to Make Somebody You Love Feel Better
I haven't really tried nor experienced #2 but #1, #3, #4, and #5 definitely helped me during my trying time and I was very lucky to find someone to help me bring myself back up again.
7) This Zizou sandals that I bought last week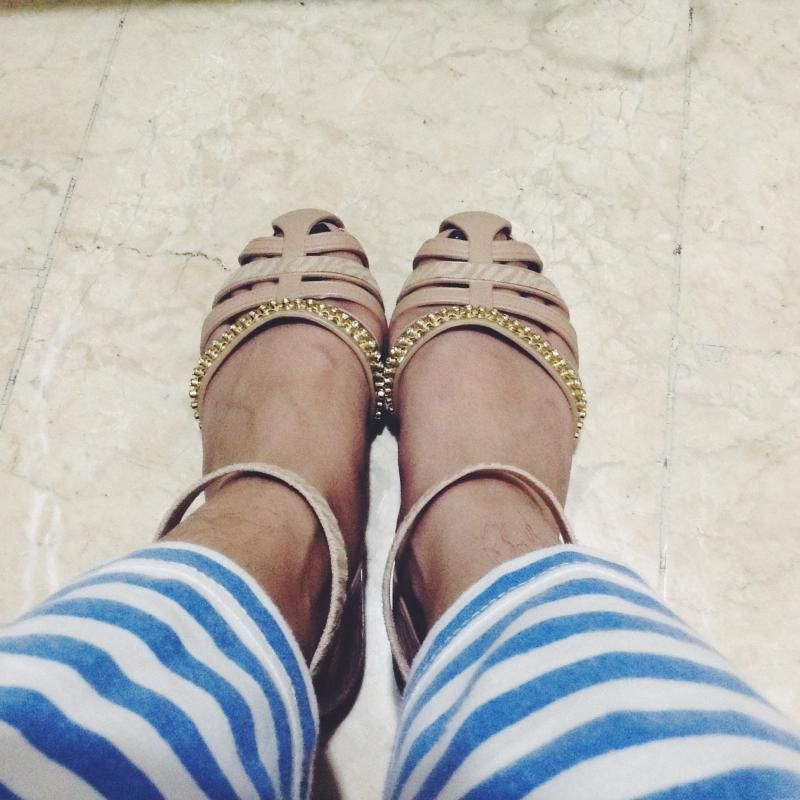 I immediately fell in love with this pair the moment I saw it, so I quickly asked for a pair in my size. I was then surprised to find out that they're actually kid shoes but they were just so pretty and comfortable and they fit me really well, so why not, right?
You can also see me wearing this pair in my previous post.
8) 5 Reasons We Should Slow Down in Life
Do not overthink. Worry less. Live in the NOW.
9) This very short Sherlock outtake which is included in the Sherlock: The Complete Seasons 1-3 Limited Edition Gift Set
It's too short, you wish you had money to buy the gift set and watch more outtakes!
10) Prince William, Kate Middleton Expecting 2nd Child
Because Royal Baby!
Share this post:
Tweet
Posted on September 12, 2014 at 10:17 PM (UTC+08:00) | Comments (0)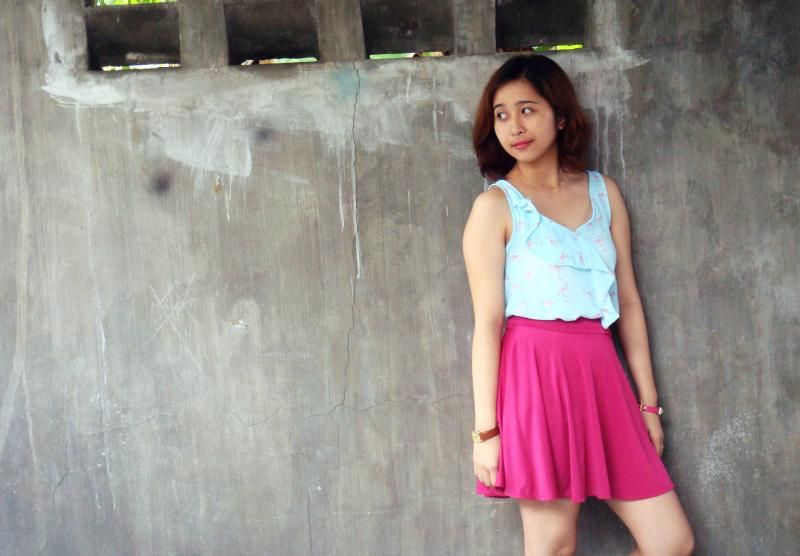 To say that I have been happy and inspired lately would be an understatement. You might be asking what's with the sudden positive energy? I wanted to let go of all the baggage and the dark clouds that always seemed to hover over me. I wanted featherlight and passionate kisses. I wanted infinite smiles and comforting hugs. I wanted to revel in the sun and dance to the beat of my own heart.
One morning I woke up and I knew that all I had to do was just do. I realized that misery was easy and I didn't want it easy. If I wanted to be happy all I had to do was find even just a glimmer of light in the dark and make it work for me.
So I wrote. I drew. I dressed up. I took care of myself. I loved. All I did was do. And here I am now.
I once told him that I couldn't write because I felt crippled. You know what he said? He said that it was all just an idea I created in my mind and if I had only created it, it means that I could also destroy it.
Every day I try to find new ways to be more positive and live this life I had been given to live. Sometimes when it gets tough, it's easy to just fall back to being miserable but every day I keep trying, because more than anything I want to be better. I can feel how he sees so much in me that I don't see. It might be potential, it might be hope, but whatever it is, I hope that he knows that I am striving hard to see it too.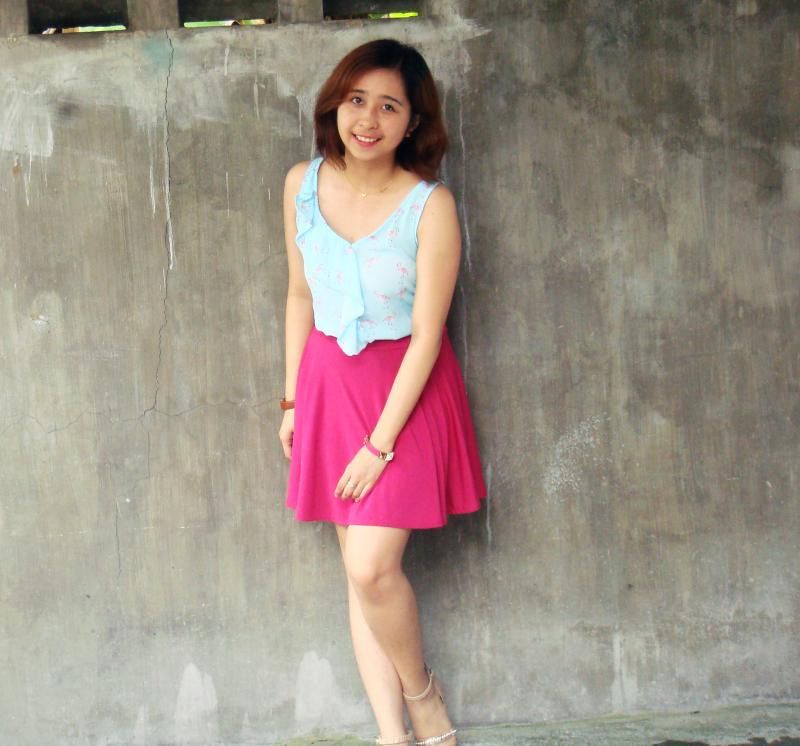 Sometimes all we need is a light to guide us out of the dark and I am glad that I found my sunshine.
Top: Candie's; Skirt: thrifted; Shoes: Zizou
Share this post:
Tweet