Posted on October 11, 2013 at 08:37 AM (UTC+08:00) | Comments (0)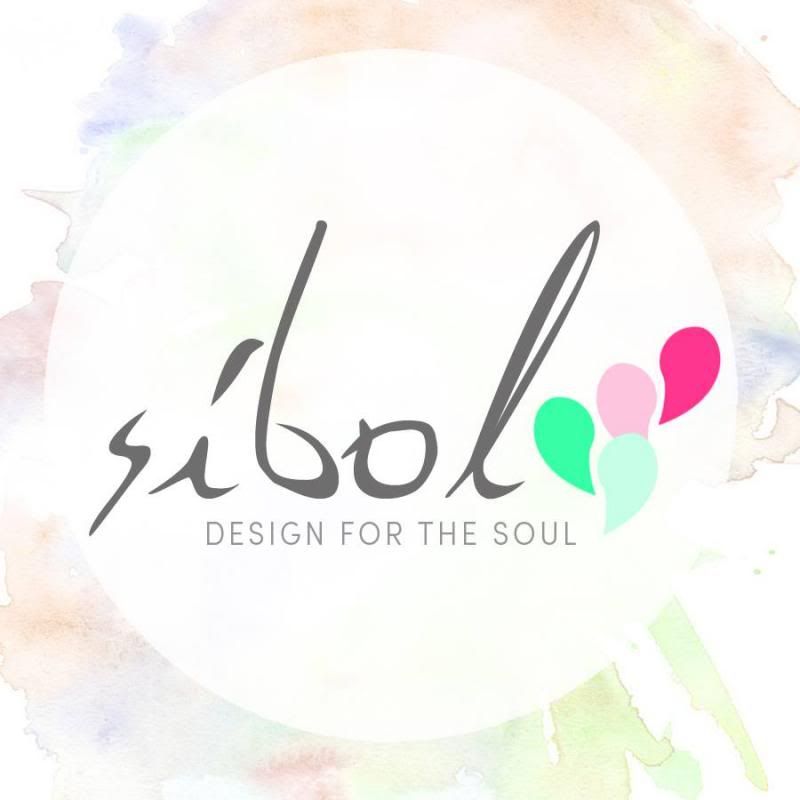 My friend Cars is a graduating student of Interior Design in UP Diliman. Every year the graduating batch of their degree has to choose what they should do for a semester-long project. To embody being Mga Iskolar ng Bayan, as what UP students are called, they decided to go with an advocacy project to show not only honor and excellence but also service to their fellow Filipinos.
Their Special Project called Sibol: Design for the Soul aims to rehabilitate the Ruhama Shelter for Children, a home that "provides a sanctuary for children whose lives have been unjustly corrupted." They plan to renovate Ruhama to be able to "provide functional spaces to cater to the distinctive needs of the staff and the children". Not only that, they will also "strive to create an overall healing environment that brings hope through design".
Right now they are trying to get donations for concrete hollow blocks. You can help by pledging at least Php10.00 (~$0.03). Your ten pesos is already equivalent to one hollow block and if we can all just shell out a few ten pesos, we can help make Ruhama a better place for the children.
You can learn more about the advocacy and Ruhama's existing interiors by watching this clip:
I am a sucker for donation drives or shelling out a few bucks to help a good cause. Just recently, I donated some cash to one of my fellow nerds to help her reach her goal of £350 for Cure Leukemia. On my birthday, I also made a donation to Operation Smile. It feels refreshing and humbling to be able to help out these people. There's just something about trying to lend your hand to make other people's lives better.
I will be pledging some amount to this cause and I am encouraging you to share a little bit of your blessings as well. If you're a co-worker of mine, feel free to pledge your ten pesos or more through me and I will meet up with Cars to give your donation. Otherwise, you may send a message through Sibol's Facebook page to ask about how you can send your donation.
This fundraising activity will only be until October 16th. Hurry and pledge now! Remember, every peso counts.
Share this post:
Tweet
Posted on October 11, 2013 at 07:36 AM (UTC+08:00) | Comments (0)
Calling all Filipino theater enthusiasts!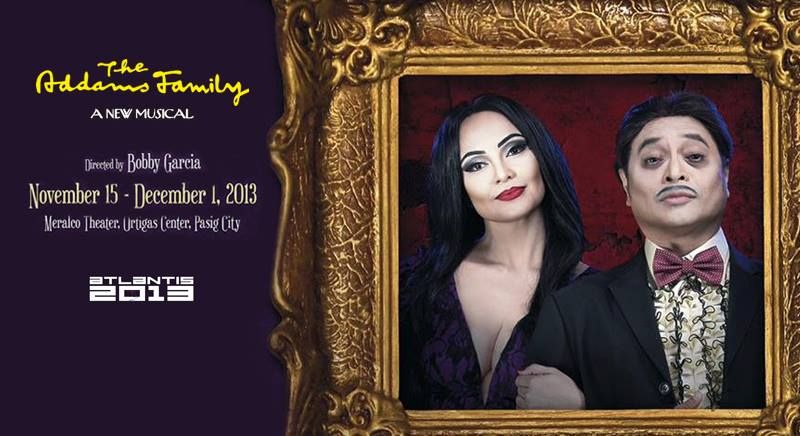 Image from Atlantis Productions Inc.
Atlantis Productions will be staging The Addams Family this coming November. The Addams Family is a smash-hit Broadway musical comedy based on the characters from Charles Addams' cartoon of the same name.
With music and lyrics by Andrew Lippa and a book by Marshall Brickman and Rick Elice, The Addams Family tells the story of Wednesday Addams having grown up and fallen in love with a sweet, young man from a respectable family and how everything will change for the whole family when they invite Wednesday's "normal" boyfriend and his parents over for dinner.
The Addams Family will run from November 15 to December 1 at the Meralco Theatre.
My friends are selling orchestra tickets for the November 16 8pm show. If you are interested to buy tickets, feel free to send me a message here and I will inform my friends and get back to you with the details.
If you can't watch on November 16 but would still want to watch the production, you can refer to the schedule below: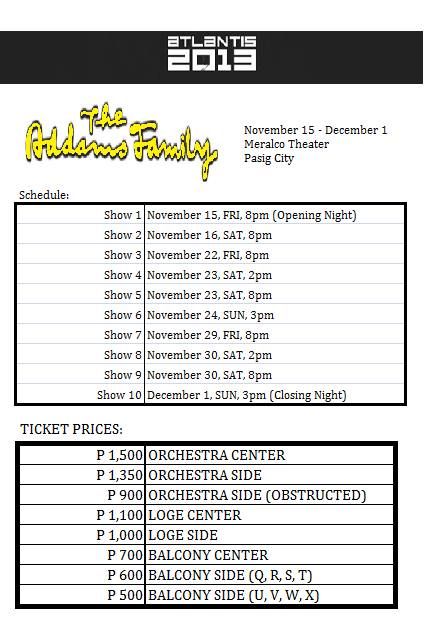 For more details, you can visit the Atlantis Productions Inc. website or call Claire of Atlantis Productions at 892-7078.
Share this post:
Tweet